Rapid Injection Molding or RIM, the essential molding tooling processis the most vital process taken into use for ensuring speed and quality remain constant for the duration of manufacturing. It is the most vital process that is required for critical design considerations – encountered for the duration of this molding process. If compare to traditional molding, rapid online injection moulding is the way that lead to faster and cost-effective tooling. CNC injection molding tool this tooling process is commonly required for different industry verticals that you can get in just a few clicks by reaching at NICE-Rapid Tooling. We have state of the art manufacturing units and spaces to ease the process. injection moulding costs are affordable and will go well your budget. It also depends on the type of Rapid Injection Molding process you are getting.
Precise Rapid Injection Molding Tooling Solution and Services by NICE - Rapid Tooling
If you are looking for the right solutions for Rapid Injection Molding and CNC injection mold, you will have some better options to fulfill your requirement by going online that is counted as one of the convenient and ideal ways to enhance your experience. At NICE-Rapid Tooling, you will get precise solutions for Rapid Injection Molding that allows making prototype injection mold china parts in a production thermoplastic resin. You can use them for final sign off, full functionality, fit testing and sales launches that need no error in the molding systems you are looking for.
Rapid Tooling Makes Process for Rapid Injection Molding China Easier
NICE Rapid has been using the right technologies to work on both low and medium volume production runs that depend on your project requirement. They have years of experience and proven track record of offering you something advanced and innovative that will surely enhance your experience and provide you the right ways. Our team of engineers and prototype experts has experience enough and expertise in Rapid Injection Molding. Whether you are looking for rapid aluminium and soft tool-steel tooling for the production of high quality low to medium volume parts or anything else, you will get the right solutions from experts. Rapid Injection Molding solution provided by us is second to none. We are here to endow you with affordable plastic moulding price and competitive solutions for all your production and prototype requirements. We are here offering you surface finishing services too. Feel free to contact us either by giving a call or sending a mail and get the right Rapid Injection Molding solutions and services.
Rapid Injection Molding price tool allows us to make prototype Injection Molding parts in a production thermoplastic resin. These parts may be used for final sign off, full functionality, fit testing and sales launches.
NICE Rapid is used to working on both low volume production runs, depending on your project requirements. Through our many years of experience, we have achieved expertise in the rapid manufacture of rapid aluminium and soft tool-steel tooling for production of high quality low to medium-volume parts. We can provide highly price-competitve solutions for low to medium-volume production requirements for your business.
We provide various kinds of surface finishing services, including plating, painting, silk screening, pad printing and hot stamp printing.
Design for Manufacture (DFM) for online injection molding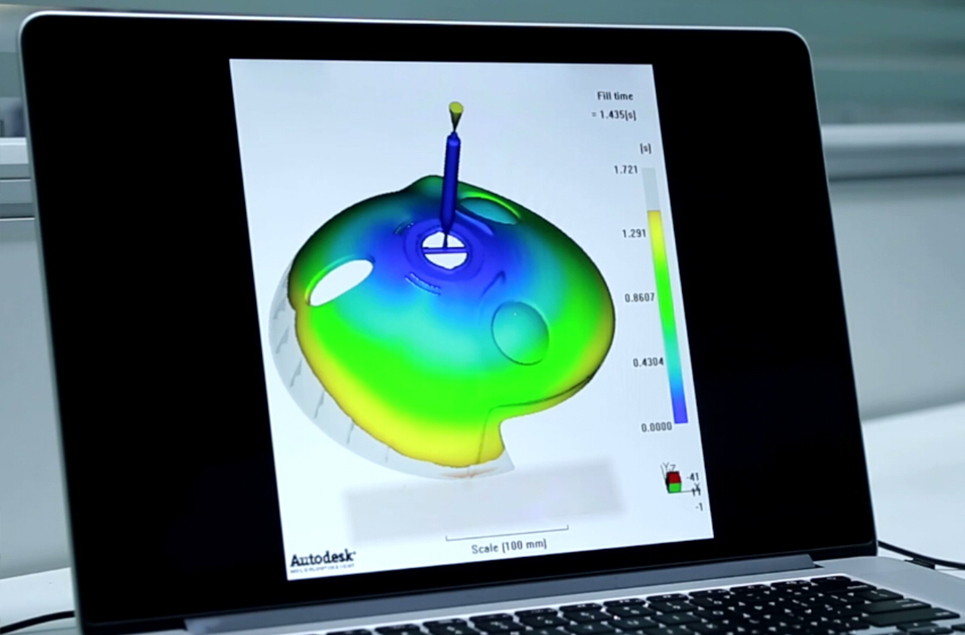 Design for Manufacture is a helpful tool that we can provide to our customers to help minimize tooling costs and to help expedite the manufacturing process. We will provide you with a detailed report that contains important information about your part design and highlights any potential problem areas. In addressing design issues early on, the DFM helps to eliminate costly re-tooling or delays in the manufacturing process caused by a problematic part design.
We also have the ability to provide mould flow analysis, which, when combined with the DFM, can save you money and ensure production in a timely manner.
Engineering and design services For Molding Tooling we provide:
Product Design Assistance

Design For Manufacture (DFM)

Mould Flow Analysis

Fully Detailed Mould Design
We specialise in rapid injection molding Parts and we'll put them in your hands fast. How fast? Get injection moulding costs. Just try us.