CNC Machining China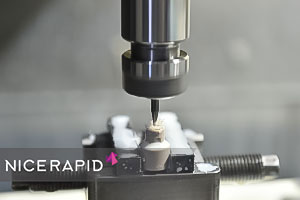 CNC Machining China, the most vital manufacturing process, in which pre-programmed computer software is taken into use to read out the movement of factory tools, machinery or anything in the same way. This process is one of the most vital and advanced processes for CNC parts China or CNC Machine China that can be taken into use to control a range of complex machinery that may be from a minor thing like grinders to large ones like mills, routers, and lathes. Choosing the right machinery type is one of the vital decisions to make that depends on various things. If you are one of them looking for high-grade and durable CNC Machining supplier China, you will have some better options to fulfill your requirement by reaching NICE-Rapid Tooling, an ISO 9001:2015 & ISO 13485:2016 certified precision CNC Machining supplier.
CNC Machining China for Plastic and Metals by Top CNC Machining Supplier
Stop searching for the top companies that are offering you precise solutions for CNC machining China. NICE-Rapid Tooling a bespoke CNC Machining supplier has been offering you comprehensive and precise solutions for CNC machining according to your choice and requirements. A team of dedicated professionals has been working here, who offer you fast turn-around, multi-axis, and high-speed CNC Machining China – mainly to fulfill the most requirements for concept models.
Not to mention prototype parts and low-volume production parts as a team of dedicated professionals at NICE-Rapid Tooling is capable and experienced enough to machine directly from your 3D Models and supply parts from one-off and low-volume quantities in different materials like metal and plastic.
Offers CNC Parts China and Comprehensive Solutions for CNC machining China
You will get complete CNC machining solutions for different types of plastic and metals that include, but not limited to ABS, PC, POM, PP, PMAA, PBT, PTFE, Nylon, PEEK and PVC (All Plastic Types). Metals that are taken into use for CNC process include zinc, brass, bronze, copper, aluminum, magnesium, mild steel, stainless steel and different other types.
Full service precision CNC Machining supplier for prototypes and short and low to high production runs. Capabilities are milling and turning of parts and assemblies. Materials worked with include aluminum, stainless, steel, exotic and precious metals, plastic polymers and other materials. Lead times are 2 to 3 weeks for prototypes and 4 to 6 weeks for production runs. Emergency and rush services are available. Industries served include aircraft and aerospace, medical, commercial, computer, and military. Secondary processes such as grinding, honing, heat treating, conversion coating, and anodizing are also provided.
A Bespoke CNC Machining Supplier Offering Complete CNC Machining China Services
At NICE-Rapid Tool, we are capable enough to supply surface treatment methods that include, but not limited to pad printing, silk screening, painting, polishing and sand blasting along with anodizing, powder coating, plating, Passivation, laser etching and knurling.
For all your requirements related to CNC Machining China, feel free to contact us and make a contact to get precise solutions from experts, who are working dedicatedly and offering you complete peace of mind and the right solutions. Nice Rapid is a custom CNC Machining supplier of high volume superior parts, providing CNC machining for tight tolerance and also lower volume applications too.
If you have a CNC machining requirement, please contact our expert team: enquiry@nice-rapidtooling.com or contact us using the form on this website or call us at +86 760 8996 2989 for a fast quote and advice.