We can offer fast turn-around, multi-axis, high-speed CNC machining solutions to fulfil most requirements for concept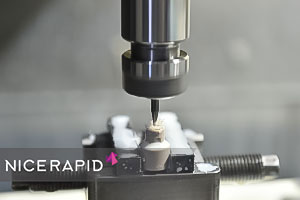 models, prototype parts and low-volume production components. We are able to machine directly from your 3D model
and can supplyparts from one-off's, up to low-volume production quantities in a wide variety of materials, including
plastics and metal.
Plastics: ABS, PC, POM, PP, PMMA, PBT, PTFE, Nylon, Nylon+30%GF, PEEK and PVC.
Metal: Aluminum, zinc, magnesium, brass, copper, bronze, mild steel and stainless steel etc.
We can also supply surface treatment methods, such as painting, silk screening, pad printing, polishing, sand blasting,
anodizing, powder coating, plating, passivation, laser etching and knurling etc.
If you have a CNC machining requirement, please contact our expert team: enquiry@nice-rapidtooling.com or contact us using the form on this website or call us at +86 760 8996 2989 for a fast quote and advice.